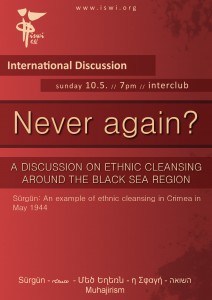 A discussion on ethnic cleansing around the Black Sea Region
Hey everybody, it is again time for our "International Discussion". This spring, many different nations historically related to the Black Sea region commemorate tragic events of their history. You might have heard about the Armenian genocide a hundred years ago, but there have been several other horrible historic incidents in this region that should not be forgotten.
Therefore, Roman from Ukraine has prepared a presentation to inform you about different historic ethnical cleansings, focusing on the situation in Crimea and the deportation of Crimean Tatars in 1944, but also referring to recent developments in Ukraine.
As always you'll be supplied with tea and cookies. We hope for an interesting discussion! Please invite friends, who might be interested in the topic. See you on Sunday!
Sunday, 10 May 2015
7 pm at the Interclub