Give. Take. Share. That is what the give-and-take festival is all about.
You can give away things that you don't need but that still work*. You might find something you need. And you can share your own skills or learn from others.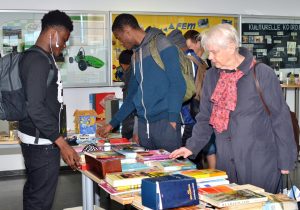 Also awaiting you are:
Chilled-out music
Coffee and cake buffet – you are encouraged to bring your own cake to add to the buffet
Workshops, including screen printing **, DJing, bicycle repair, hair and nail design
We are happy about everyone who joins us on Saturday, Oct. 15, between 1 and 5 pm in Humboldt building on the TU Ilmenau Campus!
* They should be able to be carried, intact and clean
** Bring your own clothes, bags etc. to be printed if you want