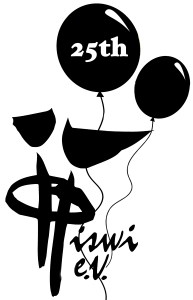 In 1992, the association Initiative Solidarische Welt Ilmenau e.V., which translates as Initiative for World Solidarity Ilmenau, was founded. After twelve succesful student conferences and various projects such as Kitchen Run, Wanderlust Lectures, Intercultural Nights, Professors reading Christmas Carols , we look back to a vivid history of this association. In order to celebrate the 25th anniversary, the ISWI Birthday Week will take place from 27th Nov to 3rd Dez 2017.
The following events will take place during this week:
Monday 27th Nov
Intercultural Night – Syria
9 pm, bi-Club
Syrian students and ISWI members jointly prepare a tasty menu consisting of Syrian delicacies. Next to the culinaric specialities, there will be a presentation about Syrian culture and some Syrian music.
Tuesday 28 Nov
ISWI Pub Quiz
admission until 8:45 pm, BD-Club
On Tuesday you will have the chance to use your – in other situations – useless knowledge during our Pub Quiz. Teams of five will compete against each other and answer tricky questions.  At the end, we will have some prices for the winning team. The event will be in German.
Wednesday 29 Nov
Kickoff ISWI 2019
7 pm, Mensa IV
For carry an international student conference into effect, one needs creative minds! Hence, we invite everyone who is interested in adding to the project ISWI 2019 to the Kickoff meet in Mensa IV. You can shape the future of this project!
ISWI Movie Night "Weit."
9 pm, H-Hs
In cooperation with hfc, we will air the movie  "Weit. Die Geschichte eines Wegs um die Welt" – admission free. The movie is screened in German, up to now we are looking English subtitles.
Thursday 30th Nov
Wanderlust Lecture Bolivien
7 pm, bi-Club
At the end of the Birthday Week, Carlotta will share her experiences from her stay abroad in Bolivia. The presentation will be in German, after the presentation there will be a chance to also converse in English.