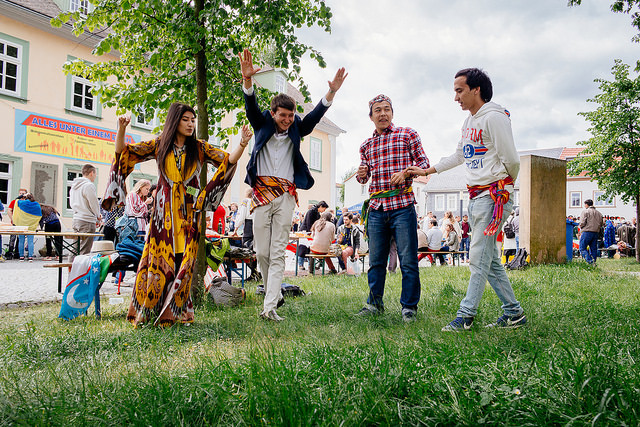 ISWI – those four letters do not only symbolise the name of our association, they are also the abbreviation of our major project: the "International Student Week in Ilmenau". The ISWI is a conference for students organized by students. It is, compared to other similar events, known for its large share in work concerning its topic. The official language of the conference is English.
The International Student Week in Ilmenau takes place every two years since 1993. It is the biggest international student conference in Germany. Meanwhile we look back on thirteen ISWIs and we hope, that there will be many more.
Each ISWI has a main topic, which is deeply analyzed by working groups, discussions, as well as speeches and debates during the student week. We invite well-known experts, who support the discussions by their personal experience, their knowledge and their ideas. The aim of our conference is an exchange of cultures, professors, experts, students and guests. We want to bring many different people together to discuss a high variety of problems, to think about solutions and to translate them into action. To complete the conference there is also a big cultural programme including an International Brunch, parties and several music concerts.
You want to join organising the International Student Week in Ilmenau? Then click on the buttons of the sections and get to know the tasks:

The heart of each ISWI are group work, lectures, workshops and discussions. At ISWI e.V. you can:
– invite inspiring personalities to Ilmenau
– define topics that you find interesting as major part of the conference
– organise movie screenings and talks
– take part in exciting workshops

Here you can develop your skills with design software and unleash your creativity:
– design for the International Student Week in Ilmenau (poster, conference wrist bands, t shirts, programme booklet, …)
– InDesign/Photoshop/GIMP/Inkscape…
– create a banner / decoration …
When you're interested, feel free to contact us

Next to the thematic programme of the week, there is a lot of culture offered. By this, each ISWI becomes a cultural highlight for the town of Ilmenau! You can plan and create various events such as:
– concerts with your favourite musicians
– events for intercultural exchange (e.g. World Food Festival at Wetzlarer Platz)
– thematic evenings
– parties
This involves meetings for planning, contact to artists, contact to associations on campus and much more. Interested? Then get in contact with us!

For a conference such as ISWI, we need various vehicles and transporters. You can help by
– organising transporters, cars, cargo bikes
– organising transports of goods & persons from A to B and hence guarantee, that everything is working
Are you interested? Then contact us

Without materials no workshops, lectures and everything that belongs to ISWI. That's something for you if you like shopping, are a natural bargain hunter or like to play storage tetris.
Also the installation of the infopoint is an essential task.
– book and arrange rooms for groupwork, lectures and events
– buy, store and provide material
– setup, maintainance and dissamble of the infopoint (helpdesk at Mensa for questions of all kind regarding ISWI)
Are you interested? Then contact us!

What would be an ISWI without participants, hosts, helpers, groupleaders or the org-team? Hence we also have responsibles for each of the groups in order to organise a great ISWI:
– groupleader
* help groupleaders when choosing an interesting workgroup
* organise the groupleader weekend with many workshops
* direct contact between groupleaders and org-team
– participants coordination
* coordinate between embassies, ISWI org-team and participants
* address participant queries before, during and after the conference
* direct contact between participants and org-team
– host
* advertise the host-system of ISWI (participants stay at Ilmenauer's places in order to get to know each other and encourage an intercultural exchange)
* address host queries before, during and after the conference
* direct contact between hosts and org-team
– helpers
* aquisition of helpers
* direct contact between helpers and org-team
You're talkative and like humans? Then get in touch with us!

Food is yummi. Hence, at every ISWI there is catering for participants, org-team members, groupleaders, but also lecturers and artists. That is why we always need a good catering team at ISWI:
– planning of lunch and dinner for ISWI participants, org-team members and groupleaders
– organising catering for lecturers and artists
– taking care that at every event there is enough food and drinks for the guests
You have a good taste and are talented at organising? Then get in contact with us.

The conference itself needs funding. In this department, you can make dreams come true :-):
– writing the project description
– creating a cost plan
– coordination of expenses
– aquisition of funding (applications for funding)
Would you like to become a finance pro, make dreams come true and make the biggest event of Ilmenau possible? Then get in touch with us!

When organising so many projects, we also need an IT infrastructure which helps us. There are various interesting fields and possibilities, how to simplify the project organisation:
– homepage (wordpress)
– infrastructure (wiki, cakePHP, ownCloud, ISWI office pcs, …)
– programming of our event management system
Also the contact to press and the outside world is important for the association. At ISWI e.V. you can:
– learn how to write press releases
– gain experiences at managing different social media channels
– become the spokesperson who is in contact with press
Interested? Then get in touch with us.